Summer season was started so as the water problems.Yesterday residents of old Guntur sit on roads with empty vessels and protested against improper water supply to households.Nearly there was an hour blockage of traffic on Guntur-Ponnur road.They immediate restoration of water supply to their homes.Commisioner assured the residents that water supply will be restored by Monday.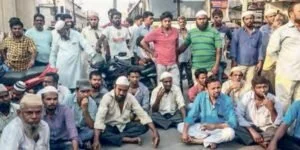 "There is a delay in interlinking of main pipeline from Takkelapadu to the pipelines in Anandpet.This was the project started with 400cr before summer to ensure that there is no water problem this summer.But it was delayed and it was informed to the residents"said by a GMC official.
This Anandpet and old guntur area people were affected by diarrhoea last month and the repair works for pipelines we're going on.GMC should check alternative measures as soon as possible.
Follow on facebook for more updates