The diarrhoea outbreak in the city was duue to failure of administration in the GMC.Drinking water was contaminated in the city which claimed 14 lives in Guntur and over 500 patients were undergoing treatment in  various hospitals in the city.Various opposition parties pressurized the govt in taking measures.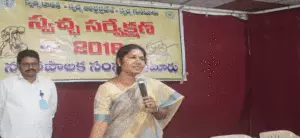 Guntur commisoner Challa Anuradha was transferred from Guntur Muncipal Corporation and Vizianagaram district joint collecter Shrikesh B Lathker was appointed as new commisioner of GMC.

CM conducted a teleconference with all the commisioners and transferred Anuradha garu.She didnt receive posting yet.Shrikesh B Lathker was appointed with the orders issued by the state govt in immediate effect.
Follow us on facebook for more updates.