Husband Suicide Note:- Mother and father, I'm sorry. Suicide is wrong but it is not wrong for me. My wife is torturing me. I was mentally dead. It was too late. Laws are suitable for women. They are just considering women only. It's the same thing happened to me, "said a husband who committed suicide. The incident happened in Narasuraoppa, Guntur district on Monday. According to police sources, Satish Babu (34) resident of Peda Cheruvu married a girl named Radha who is hailing from Nellore district in the village of Pallam village four years ago. Satish is working as a teacher at Narasaraopeta Oxford School in Prakashnagar.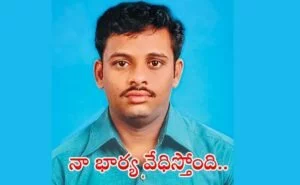 When the couple got involved infightings, Radhika went to her parents home just after three months of marriage. A few months later Radha again came to husband home after being convinced by her elders. Two years ago, Satish committed suicide by consuming poison and admitted in a private hospital. At that time, the wife again went to her home. Satish returned to the court six months ago when she did not return. The case is currently running. In this background 2 months ago Radha along with his brothers approached Sathish at his home and quarrelled with him. Elders were compromising the situation and convinced again them to live together.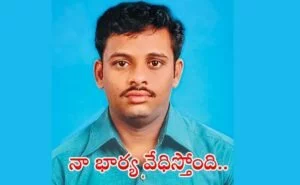 Both the wife and the husband went to the court and the case has been closed. Both of them lived together. Again upset situation turned Radha to her House. Soon after this situation, Satish committed suicide by hanging himself in his home.
On Monday morning, Family members tried to open the doors, while Satish was seen hanging. CI Surendra Babu, who received the information, reached the spot and examined the body. A letter stated that Wife Radha and her cousins Venkateshwarlu and Venkatesh are the main reason for his death. He said that their threats and harassment committed my suicide. The police found that the suicide note was written on 18th of this month.