Kotappakonda was a famous historic temple in our state located 15 km from Narasaraopet and 10 from Chilakaluripet.The main diety in this temple is Lord Shiva.He was offered prayers in the name of Trikoteswara Swamy.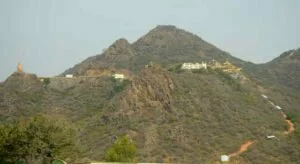 How to reach??
We can reach here through Narasaraopet and we can also reach through Chilakaluripet.It was located on a hillock.That hill was called Trikotadri.It was seen as 3 peaks from any directions and each peak was represented by locals as Brahma,Vishu and Maheswara,So collectively called as Trikotadri.There are steps to reach hill top and ghat road facility for cars and buses.The height of temple of 1587 feet and temple was located at 600 feet.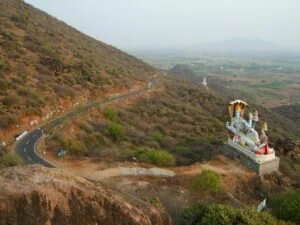 Temple History
According to the legend, Lord Siva after destroying  Daksha Yagnam pacified and converted himself into a 12 years old boy  commenced penance as Dakshana Murthy in Kailasam. Then Lord Brahma and other Gods appraoched and offered prayers to Dakshana Murthy and entreated him to impart the knowledge of Brahma. Dakshana Murthy accordingly agreed and asked them to come to Trikotadri where he imparted them the knowledge of Brahma making these hills very sacred.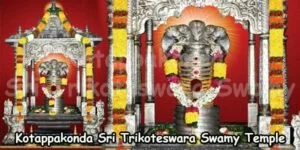 Speciality of Kotappakonda
No crow can be seen in the surroundings of kotappakonda.The legend says that a lady who was a great devotee of Lord Shiva used to worship Lord Shiva by offering fruits and flowers at this temple. And one day, when the lady was on her way to the temple, a crow troubled the lady by seeing the fruits. The lady got angry and cursed the crow saying that it cannot enter the temple premises. Even today, we cannot find any crows around the temple premises.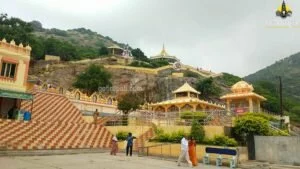 Maha Shivarathri Carnival
Maha Shivarathri was celebrated here in a grand scale.Lakhs of people from all around the state will visit this temple on that auspicious day to receive blessings from Shiva.A huge settings of lights called as "Prabhalu" was main attraction during this carnival.
A picnic spot for tourists
This kotappakonda is famous for its natural scenaries.On the ghat road there is a park in which idols of all gods are placed.This park has excellent greenery with good maintainance.This is the best picnic spot for a family.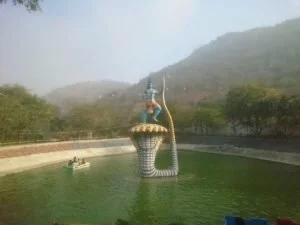 Kotappakonda was considered as oral heritage site by UNESCO and it was a symbol of our state heritage.Kotappakonda is getting ready for this Maha Shivaratri.
Follow us on facebook for more updates.