Andhra Pradesh IT and Panchayat Raj minister was selected for Digital leader of the year by the central government.He was selected for the award for the usage of technology and dashboard and welfare schemes in the state under his ministry.Sources said that as the Panchayat Raj minister he was using latest technology in supplying drinking water and irrigation facilities.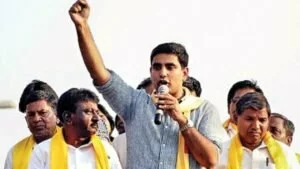 Nara Lokesh name was finalized for the award under Swatch Sarvekshan programmes launched by the union government. This award will be presented to Lokesh at Business World Digital India Summit to be held on May 18 in New Delhi.He was facing a lot of crticiscm in the state for his fumbleness in speeches,but now this award presented to him opened a lot of discussion in the state.
Follow on facebook for more updates.