Sankranthi is a festival of farmers and it is the biggest festival for our telugu people.Cockfights are one of the major highlights of this Sankanthi.Along with cock fights it is also known as festival of kites.
Cockfights are the culture of our Telugu people practicing since medeival period.These cock fights are well connected to the people of our Palnadu region in Guntur.It was connected to our history as the cock fight between Palnati Brahma Naidu and Nagamma led to the Battle of Palnadu.This cock fights is a part of our Heritage.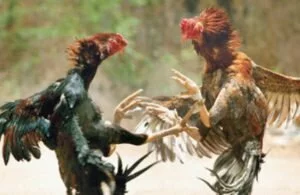 Fight organisers generally prep 12 types of cocks for Sankranti fights. Venues chosen include distant locations of Repalle, Tenali, Bapatla and other districts for disturbance free cockfights, away from law enforcement. The fights are also planned with the help of individuals with political support.
The delta areas of Kolluru, Bhattiprolu, Nizampatnam and Repalle mandals were removed as venues. Instead, remote locations across Palnadu such as Gurazala, Piduguralla, Pedakurapadu, Rajupalem and Sattenapalli have been turned into cockfighting arenas.
Follow us on Facebook for more updates. Thank you.